Can you see spring yet? Me neither, but I know it's coming! I am looking forward to the end of the ice. I never thought much about it when I was younger, but I sure do now!

I have been looking through the plethora of AAUW materials that we have available on the website, and I am in awe! We have so much going on and so many wonderful volunteers! Speaking of volunteers, I am so happy that one of our finest, Leslie Sworsky, has taken over the 990 News. I have done it for eight years, and while I have enjoyed it, it is time to move on. Our 990 News is constantly evolving, and I am looking forward to seeing where Leslie takes it!

On another note, I am so proud that our organization has three statements that encompass our goals: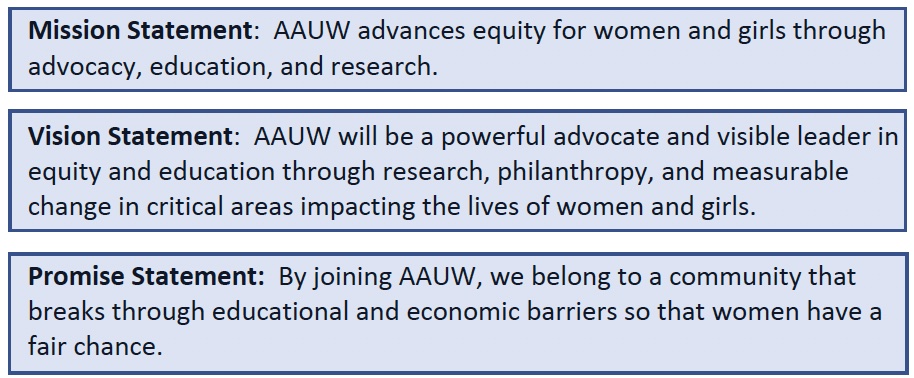 All three are great in their own ways, but the Promise Statement is what is nearest and dearest to my heart. As it takes until March of the next year for women to earn as much as men do in twelve months, I realize that we will have to work on this for a very long time. We have come a long way, but there is still so much ground to cover for the generations coming behind us. Please take time to advocate for those who need our support. All women deserve a voice and equal compensation. Our voices mean something!

Know who your representatives are and contact them to let them know your thoughts. Refer to our Take Action! web page often and see what is happening at the Minnesota state legislature and ways you can get involved. Our Public Policy & Environment Committee has been busy!

It is lovely to be your president and to hear from you! I appreciate your commitment to AAUW and your commitment to women!

I know the snow will leave sooner or later, so Happy Spring!
My best to all,
Carol Hanson, AAUW President 2022-24
Carolehanson6@gmail.com
612.210.6677
Posted: 3/16/23
American Association of University Women – St. Paul Branch

990 Summit Avenue
St. Paul, Minnesota 55105
(651) 227-4477
info@aauwstpaul.org
© Copyright 2023 AAUW St. Paul Branch