What's been happening at AAUW St. Paul?
This page is where we'll be highlighting recent branch events with pictures and descriptions as they come in from event sponsors. We'll also be highlighting announcements of particular importance and interest to our members.

Check back regularly to see what's been happening at 990 Summit Avenue and other locations where our members gather.
AAUW Goes Up North and Outside!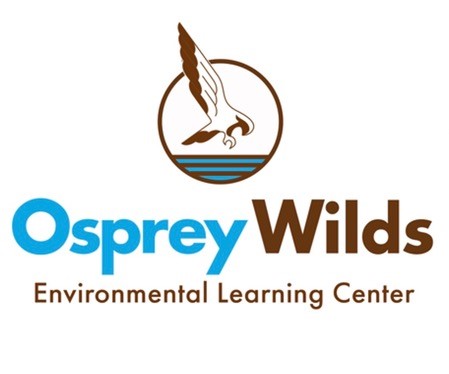 Osprey Wilds Environmental Learning Center Outing
Tuesday, July 18, 2023
Coordinator: Deb Curran

https://ospreywilds.com

It was a beautiful summer day for our AAUW outing at Osprey Wilds ELS near Sandstone, Minnesota. Highlights of the outing included an informative session about their farming operation capped off with the opportunity to pick vegetables from the beautiful organic garden. We enjoyed a delicious lunch before heading to the animal barns where we were introduced to the resident birds, turtles, snakes, porcupine, rabbit, and more. We took a walk down to the lake and explored the beautiful accommodations for campers and groups, including the original farmhouse built in 1900. With the addition, it can sleep 23 people and you can reserve it for family reunions or other large gatherings. Thank you to Deb Curran for organizing this wonderful getaway!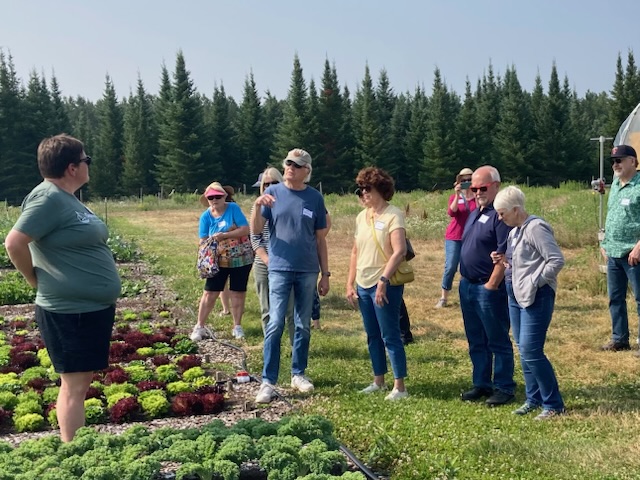 Photo on left: Hearing all about the farming operation at Osprey Wilds which includes beef cattle and organic vegetables.
Photo on right: We gathered vegetables from the organic garden.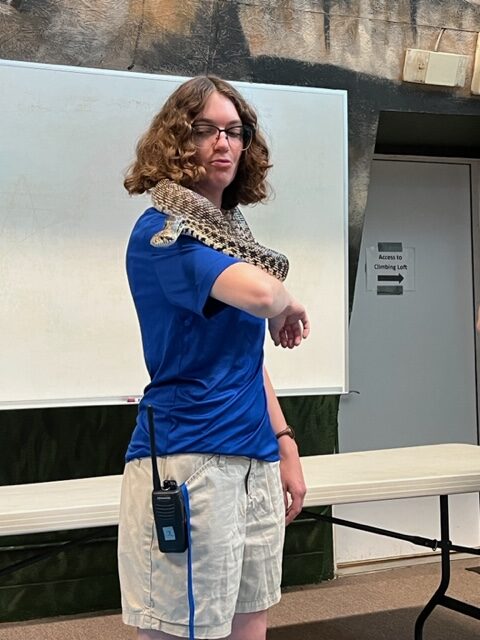 Photo on left: One of the resident creatures we were introduced to – a large female bull snake.
Photo on right: A lovely walk down by the lake after touring the original farm house.
Rally at the MN Capitol for ERA Minnesota
January 3, 2023
With the snowstorms that came through on January 2nd and 3rd, the ERA Minnesota Rally was lightly attended. No stranger to getting herself to the State Capitol in the worst of winter weather, Pat Dalton of our Public Policy & Environment Committee teamed up with AAUW Minneapolis members Veronica Johnson, Nancy Sjoquist, and Glenna Case to provide an AAUW presence at the event.

The PP&E Committee will be providing updates on efforts to get an Equal Rights Amendment added to the Minnesota Constitution on our branch Take Action! page. We urge everyone to call, write, or email their State Senators and Representatives supporting equal rights for all – regardless of gender. Suggested wording and talking points will be found on the Take Action! page.

~JoAnne Tomczak for the Public Policy & Environment Committee
Annual Holiday Celebration and Book Sale!
December 6, 2022
For our final Tuesday program of 2022, one hundred members gathered for our annual holiday celebration and book sale. We celebrated with mimosas, a lovely brunch; after which, a trio of musicians entertained us with a variety of Baroque music selections.
Happy holidays and new year to all!
Photo on left: Brian Quist and his wonderful team did a beautiful job with the table settings.
Photo on right: The House was decorated for the holidays!
Photo on left: We had a full house with 100 attendees!
Photo on right: Phil Rukavina (lute), Cléa Gulhano (recorder), and Curtis Foster (oboe) played beautiful Baroque music.
Photo on left: Linda Miller Poff (kneeling in the red sweater) made the lovely centerpieces and one member from each table got to take one home!
Photo on right: Another successful Holiday Book Sale is "in the books"!
IN GRATEFUL RECOGNITION
Margaret E. Durham
1928-2021
Margaret E. Durham was a member of the St. Paul Branch of the American Association of University Women (AAUW-SP) for 33 years, from 1988-2021.

She was born in Detroit, MI in 1928. She served as a civilian secretary in the United States Army in Zurich and Tokyo during World War II. During the 1950s she obtained her BA from the University of Montana and her MA at the University of Indiana. She became a valued teacher of German at the St. Paul Academy and Summit School. Margaret was an avid traveler and an avid reader.

Margaret was a keen listener during AAUW meetings. She rarely spoke to share her ideas during Great Decisions discussions. She, no doubt, would have had a great deal to share, but that was not her style. For years, Margaret quietly donated her time as part of "The BookEnders" to organize and prepare donated books for the AAUW-SP Annual Book Sale.

Margaret passed away on November 17, 2021. Thereafter, we learned that she had donated 50% of a deferred annuity to the American Association of University Women for its Scholarship Trust.

On October 25, 2022, AAUW-SP formally recognized Margaret Durham's thoughtfulness and generosity. Her value of higher education for girls became her estate gift to 'The St. Paul College Club Inc. AAUW Scholarship Trust' in the amount of $17,973. – expanding educational opportunities for the next generation of women and girls.

~ Mary Chorewycz, Vice-President of Fundraising for AAUW-St. Paul
October 2022
REBUILD UKRAINE, RESTORE HOPE
October 19, 2022
Evening Programs committee member Cheryl Brown welcomes us to the event.
One hundred members, spouses, and friends deepened their understanding of the urgent situation in Ukraine at the AAUW-St. Paul Evening Program on October 19.
After a glass of wine with friends, everyone sat down for A Taste of Ukraine, a Ukrainian dinner featuring specialties from Kramarczuk's in Minneapolis – borscht (Ukrainian beet soup in meat broth) and rye bread, potato-cheese varenyky (pierogi dumplings) with roasted onions, and Ukrainian-style cheesecake with cherry topping. AAUW's Chef Christophe rounded out the dinner with a traditional French Chicken Kiev – renamed Chicken Kyiv for the evening.
Mark Sweere
Volunteer Ambassador Mark Sweere from Rebuild Ukraine introduced the program by lighting three candles commemorating all who have died since the war began, honoring the resolute resistance and resilience of the Ukrainian people, and in tribute to all who respond to the suffering in Ukraine and work to end the war.
Music performed by artists Ora Itkin, piano and Laura Sewell, cello, specifically chose music In Memoriam, performing works by Bach, Brahms, Pärt, and Chopin. At the very end they closed the program with a touching Benediction composed by the late Stephen Paulus (1949-2014) who had lived nearby on Summit Avenue.
Ora Itkin and Laura Sewell
Professor Paul Gavrilyuk
University of St. Thomas Professor Paul Gavrilyuk opened his talk, REBUILD UKRAINE, RESTORE HOPE, by recapping efforts of the Minnesota-based non-profit he founded last spring in response to the Russian Invasion of Ukraine on February 24, 2022.

Working with partners in Eastern Europe, Rebuild Ukraine is saving the lives of Ukrainian defenders, refugees, and children by providing urgently needed humanitarian aid. Since February, Rebuild Ukraine has raised $500,000 for medical transport vehicles, medicines, food, medical supplies (tourniquets, first aid kits), protective gear, and solar batteries. These urgently needed supplies are procured via trusted partners in Eastern Europe (primarily Lithuania), then driven to a central distribution point in Ternopil, Ukraine, from where they are delivered to designated points across Ukraine. Because Rebuild Ukraine is an all-volunteer organization, administrative costs are negligible. By sourcing goods from vendors across Eastern Europe, shipping costs and delays are averted. Goods purchased abroad with money wired from the States also extends the purchase power of each dollar raised. The result is a nimble program where all gifts can be immediately put to work responding to emergencies.

To learn more about REBUILD UKRAINE or to join this effort, please see: rebuild-ua.org.

~ Cheryl Brown for the Evening Program Committee


Page updated: 7/24/23
American Association of University Women – St. Paul Branch

990 Summit Avenue
St. Paul, Minnesota 55105
(651) 227-4477
info@aauwstpaul.org
© Copyright 2023 AAUW St. Paul Branch